Note: Article published at January 21, 2020.
"A cryptocurrency exchange is a business that gives an opportunity to interested sides to trade cryptocurrencies or digital currencies for other assets, such as conventional fiat money or other digital currencies. A cryptocurrency exchange can be a market maker that typically takes the bid-ask spreads as a transaction commission for is service or, as a matching platform, simply charges fees."
"Transactions may take a form of credit card payments, wire transfers or other modes of payment in exchange for digital currencies or cryptocurrencies."
"The transactions can send cryptocurrency to a user's personal wallet. Some of them can convert digital currency balances into anonymous prepaid cards which can be used to withdraw funds from ATMs worldwide while other digital currencies are backed by real-world commodities such as gold."
"The founders of digital currencies are often separate from the digital currency exchange that facilitates trading in the currency. In one type of system, Digital Currency Providers (DCP) are businesses that keep and administer accounts for their customers, but generally do not issue digital currency to those customers directly. Customers buy or sell digital currency from digital currency exchanges, who transfer the digital currency into or out of the customer's DCP account."
"Decentralized exchanges do not stock users' funds on the exchange but instead facilitate peer-to-peer cryptocurrency trading. Decentralized exchanges are resistant to security problems that affect other exchanges."
Source: https://en.wikipedia.org/wiki/Cryptocurrency_exchange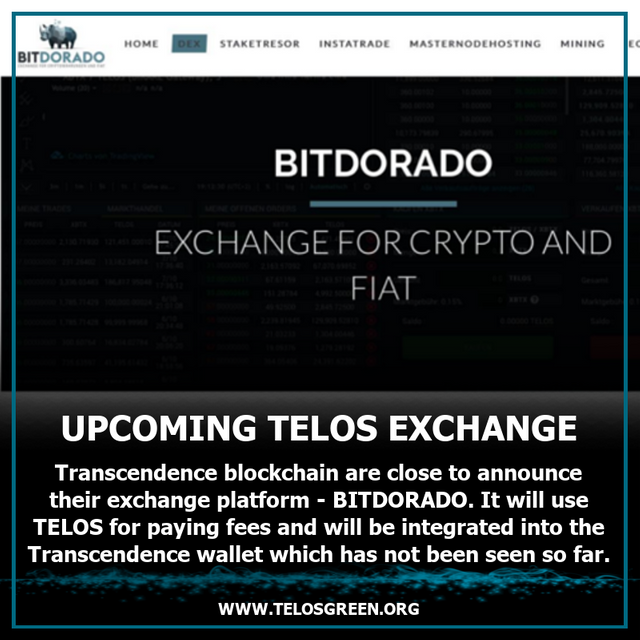 BITDORADO – EXCHANGE FOR CRYPTO AND FIAT
Welcome on Bitdorado the #1 Place to Trade and earn passive gains via Proof of Stake, Proof of Work and Proof of Gain.
https://bitdorado.exchange/
Underlying technology
Bitdorado use a Decentralized Network of Nodes (DEX) as a bottom level to secure your wallets from being a victim of hacks. No one can get access to your balance by hacking our Servers.
On a second layer, we provide additional Nodes called Blueboxes (check http://www.blueboxing.net) on which Masternodes of different coins are set up and running in order to gain POS and/or masternode rewards.
On a third layer, we run the same boxes to do Mining in the Bluepool. The Bluepool has no fees for itself. Instead, it costs a single-time entry fee to get a Wallet Whitelisted. Accepted are TELOS and/or XBTX to pay the Premium Membership fee.
Transcendence announced preparing for launch:
BITDORADO Premium Membership
An advantage that you can gain as a Premium Membership owner is early access to newly opened tokens, as well as a non-negligible discount that, depending on the token, can vary from 1-50% of the nominal price and is ultimately a decision between that party and Bitdorado.
Premium Members also have access to InstaTrade (™), which allows you to buy any of these coins at cheaper prices.
Premium members who own Bluebox can also activate InstaTrade (™) in their Bluebox and exchange for any cryptocurrency available on Bitdorado.
Premium Members who are also European Union citizens will receive a free EPay Debitcard that will be automatically update based on their Stakingtrezor (™) or Bluebox income and the threshold they previously define. Enjoy the freedom of Passive income on your travels.
Finally, Premium-Members obtain a Discount of 5% from ARES Computer (Just jump via the link in your dashboard to Partner-Shop(s)).
The Premium-Membership costs you 200K TELOS.
Premium Members can book additional benefits at reduced costs.
These payments are going to the StakingTrezor and revenues (FEES for normal users) from the Trezor are shared between Premium Members and Bitdorado (20%* Premium Members / 80% Bitdorado).
*The exchange will only Pay TELOS to Premium Members out of the StakingTrezor. Trading fees are automatically withdrawn from the rewards.
https://bitdorado.exchange/
Stay Tuned!